Himalayan salt lamps have exploded in popularity over the past few years and it's just not because of their unique looks or the warm soothing glow they emit when plugged in. These pretty lamps offer some amazing benefits too. Himalayan salt lamp benefits range from boosting mood and reducing allergies to improving indoor air quality and increasing energy levels.
As you scroll below, you'll find answers to some of these more commonly asked questions about Himalayan Salt Lamps and their benefits.
What is a Himalayan salt lamp?
How does a Himalayan salt lamp work?
What are the benefits of Himalayan salt lamps?
Which is the best Himalayan salt lamp to buy?
What is a Himalayan Salt Lamp?
A Himalayan salt lamp is essentially a large chunk of pure Himalayan Salt.
The interesting thing is these lamps are not created by carving a rock or putting together pieces of salt rocks. Each lamp is itself a solid piece of salt, which is why you'll never find two pieces that look exactly the same.
Every piece is 100% unique, with its own distinctive striations, fissures, cracks, and color variations
The salt is mined from the western side of the Himalayan Mountains. This salt contains trace minerals such as zinc, magnesium, and potassium. These trace minerals give salt lamps their distinctive hue. Colors of these lights can range from the lightest shade of pink to dark orange depending on the percentage of each mineral in that chunk of rock. Although rare, you can also find them in black and white.
The inner portions of the mined chunks of salt are carved to form a small space inside. A small light bulb and electric cord are placed in this carved-out space. When switched on, the bulb lights it up from inside bathing the whole lamp in a warm, soothing glow.
These exotic-looking salt lamps are not just for show though. They offer a host of mental, physical, and environmental benefits. When used regularly, they reduce allergens in the room and help you breathe better. They also help you feel more relaxed and sleep better.
How Does a Himalayan Salt Lamp Work?
Wondering if the benefits of Himalayan salt lamps are real?
At first, I wondered about it too. I did extensive reading on this topic to better understand how Himalayan salt lamps work so I could determine for myself whether the benefits were real or not. The research was fascinating, to say the least.
Himalayan salt lamps work in two ways. One is by the naturally hygroscopic nature of salt content and the second is by releasing negative ions when they are heated.
Salt is naturally hygroscopic, which means it attracts moisture, humidity, and airborne water molecules itself. These water molecules also contain pollutants, allergens, and other microscopic particles. When placed in a room, the large chunk of salt draws moisture from the surrounding atmosphere, along with the particles within the water molecules. This reduces the number of pollutants and allergens in the surrounding environment.
That's just one way that Himalayan salt lamps work to cleanse and purify the surrounding air.
In high humidity levels, your lamp may start to look like it's sweating because of the larger amounts of water in the atmosphere. Nothing to worry about if this happens. Just wipe it down and switch it on and it dries out.
Another way that these lamps work is by producing negative ions when they are heated. They do not generate negative ions themselves. They need a heat source to do this. When the bulb is turned on, the heat accelerates evaporation and activates the negative ions in the salt.
It's important things to remember that to get the benefits of Himalayan Salt Lamps, you must make sure to light the lamp regularly. Salt lamps only generate negative ions when the salt is heated.
How Negative Ions Work
Both positive and negative ions exist in the atmosphere. Positive air ions are generally carbon dioxide molecules that have lost an electron. Negative air ions are generally oxygen molecules that have gained an electron.
Research shows that negative ions increase the flow of oxygen to the brain. They may also decrease the number of germs and pollutants in the air, reducing the amount you inhale, and lowering your susceptibility to coughing, sneezing, and allergies. Having a larger amount of negative ions offers several health and environmental benefits.
Nature produces negative ions continuously to combat pollution in the air. Certain elements such as running water, sunlight, and lightning storms are some of the best sources of negative ions. Water from a cascading waterfall and the continuous rise and fall of ocean tides also produce high concentrations of negative ions. This is why we feel so refreshed and invigorated after a storm or after spending time at the beach or standing under a waterfall. The high levels of negative ions in the atmosphere purify the air and makes it so invigorating.
This constant regeneration of negative ions is what's missing in busy urban areas, resulting in higher pollution levels. While these salt lights do not generate as many negative ions as nature does, the small amounts that they do produce when lit can offer powerful benefits.
Powerful Health Benefits of Himalayan Salt Lamps
1. Improves Air Quality
Himalayan salt lamps improve air quality both by their hygroscopic nature and by generating negative ions when heated.
Even when unlit, the large chunk of salt continuously draws moisture from the atmosphere. The absorbed moisture has airborne pollutants trapped inside its molecules. This reduces the amount of pollutant-filled water molecules in the air, leaving it cleaner so you can breathe better.
2. Improves Sleep Quality
Over-exposure to positive ions in the environment can affect your sleep quality. Even if you do get 8 hours of sleep, you are more likely to wake up feeling tired and irritable. This is where you can benefit greatly from keeping a Himalayan salt lamp in the bedroom. By generating negative ions and lowering the number of positive ions in the bedroom it creates an environment that's more conducive to sleep.
If the light from the lamp bothers you while sleeping, leave the lamp on for a while before you go to bed and switch it off just before you go to sleep. Alternatively, buy a grey Himalayan salt lamp. These give off a dull glow that's least likely to disturb you while you're sleeping.
3. Boosts Energy Levels, Focus & Productivity
Do you feel tired all the time for no apparent reason? More often than not, it is due to the draining effect of positive ions emitted by various electronic equipment in our homes. The positive ions reduce blood and oxygen supply to the brain resulting in persistent fatigue and lack of focus. The negative ions emitted by the salt counteract the draining action of the positive ions, helping you stay more energetic throughout the day.
Himalayan salt lamp benefits for energy can be easily related to the effects of spending time in nature. You know how you feel refreshed and energized when you're at the beach, or just spending time in nature? The abundance of negative ions in nature help to invigorate your system and boost energy levels. The same thing happens when you keep a salt light in your home.
4. Reduces Seasonal Pollen Allergy Symptoms
It's the hygroscopic nature of salt that works effectively to reduce allergy symptoms.
As we said earlier, salt absorbs moisture from the air. The water molecules that are absorbed contain microscopic airborne pollutants trapped within. This eliminates excessive allergens from the atmosphere, which helps to alleviate irritating allergy symptoms.
Whether you are allergic to pollen, mold, mildew, dust mites, or any other pollutant, placing one of these lights in your home can help.
Related Reads:
Natural Remedies For Seasonal Allergies 
12 Ways To Reduce Pollen Allergy Symptoms Naturally
5. Reduces Symptoms of SAD & Boosts Mood
Seasonal affective disorder (SAD) often occurs in the winter when there isn't a lot of sunlight. This is not just because of the sunshine and vitamin D, but also because of the lack of negative ions.
You need sunlight to feel happy. Many people start experiencing severe depression during the winter. At times like this, the soft orange hues of your lighted rock lamp can help to lift up your mood and reduce the symptoms of SAD.
There's more. Check out 10 Reasons To Keep A Himalayan Salt Lamp In Your Home
Types of Himalayan Salt Lamps – Best Himalayan Salt Lamp Brand
After checking out several manufacturers, I've found that So Well is the best Himalayan Salt Lamp Brand for several reasons.
They have the largest choice of salt lamps, from massive raw chunks to daintily sculpted shapes that are perfect for gifting.
Each lamp is 100% unique and will have striations, fissures, cracks, and color variations – none of which interferes with the physical structure of the lamps. These fissures, striations, and cracks are unique to each piece.
So Well is also the only salt lamp retailer that is dedicated to fair trade and sustainability. That is a major plus point in my books. The So Well story is very interesting.
The lamps you'll find on their site come in a variety of colors, each with their own unique features and colors, as well as their own special qualities. These are some of the types of Himalayan salt lamps you'll find at So Well.
Amber Himalayan Salt Lamps
So Well Amber Himalayan Salt Lamps emit a deep serene glow that's caused by their rich mineral content. Their natural colors and warm glow create a more serene environment that's perfect for deep relaxation, restful sleep, insomnia, and grounding.
These amber lamps are rich in iron, copper, and magnesium along with 81 other minerals. The amber color spectrum in these lamps is caused by the composition of minerals in that particular chunk of salt.
Rare Grey Himalayan Salt Lamps
Grey Himalayan Salt Lamps are perfect for you if you need one to help you sleep at night but you also need complete darkness when sleeping. With their dark coloration and low shine, the Grey Lamps are less likely to disturb their sleep. Using dark bulbs such as blues or purples will further reduce the amount of light emitted.
So Well Grey Himalayan Salt Lamps are very rare. Each piece is unique and beautiful. These make great conversation pieces when placed in the living room. They make fantastic gifts too.
Rare White Himalayan Salt Lamps
So Well White Himalayan Salt Lamps are great for energizing, healing, meditation, and giving a surge of positivity. They are particularly great for work environments to give you energy throughout the day.
The beauty of these white lamps is you can change the coloration just by changing the color of the bulb. A white bulb will give the piece a classic look but with a simple change in bulb color, you can change the color to complement your décor.
Rare White Himalayan Salt lamps make great decor pieces, especially around Christmas time. Their white coloration fits perfectly into the color theme of the Holiday season. So Well even has a couple of shapes that are designed for use during the Holidays. Check out this beautiful white Himalayan salt lamp carved in the shape of an angel, and this cute trio of pure white stars.  
Crystal Cube Himalayan Salt Lamps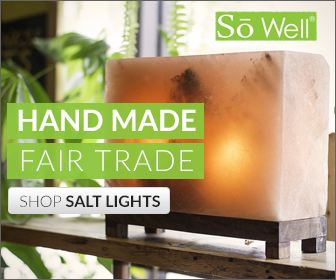 So Well Crystal Cube Himalayan Salt Lamps are carved into amazing and unique shapes featuring distinct balance and symmetry. Created from ancient salt crystal, these lamps support a calm and inspiring environment.
Each So Well Crystal Cube Salt lamp is original and unique, with natural color striations and fissures enhancing its own inherent beauty. Every crystal cube piece is one of a kind.
Himalayan Salt Serenity Bowl Lamp
The Serenity Bowl Himalayan Salt Lamp consists of a handcrafted bowl filled with raw, unshaped chunks of Himalayan salt. The bowl sits on a wooden base that adds to it looks while also keeping it off your table. The salt crystals have not been exposed to air in millions of years.
The Serenity Bowl lamp looks absolutely stunning and offers an incredible calming glow. It is approximately 7" in height, 6" in width, and weighs 5 – 6 lbs. You can get the Serenity Bowl in Amber, White and Grey
You can use this lamp for diffusing your favorite essential oils and breathing easier.  You get the power of ionization, energy, and aromatherapy all in one Himalayan salt lamp.
Himalayan Salt Aromatherapy Lamp – Get the Benefits of Both Worlds
This Himalayan Salt Aromatherapy Lamp is a So Well exclusive. It has a glass bowl that sits atop an amber salt lamp.
You add a few drops of essential oil in the bowl. When you plug the lamp in, it heats up the salt, which releases beneficial negative ions into the atmosphere. The heat also activates the essential oil in the bowl, diffusing its aroma into the air, offering soothing, calming energy throughout your day. This gives you the benefits of the salt lamp and of aromatherapy in one. The combination of benefits will depend on which essential oil you use in the lamp.
For better sleep, keep this lamp in your bedroom and add a few drops of lavender or chamomile essential oil in the glass bowl. For more powerful sleep, use a few drops of any one of these deep sleep essential oil blends. 
To create a more relaxed atmosphere, use these relaxing essential oils. 
Struggling to stay focused? Adding a few drops of these essential oils for focus in the glass bowl will help.
Adding a few drops of these essential oils for allergies will increase the allergy-reducing benefits of the lamp.
You can use this lamp with or without essential oils.
Himalayan Salt Lamp Benefits: Are They Real?
Yes, the benefits of Himalayan salt lamps are real but it's important to be realistic in your expectations. While these lamps will create a healthier indoor environment, they won't improve indoor air quality drastically or fix any serious health problems
Studies show that Himalayan salt lamps work but you won't notice any difference overnight. Because these lamps produce small amounts of negative ions, it takes time to see the improvements. Light it regularly and in time, you will notice that you feel more energetic and focused during the day and sleep better during the night.
Related Reads:
Himalayan Glow 1002 Pink Crystal Salt Lamp Review
Do you use a Himalayan salt light in your home? Let us know your experience with using these lamps in the comments below.
Disclaimer: This information is not intended to serve as medical advice. Please consult your physician before using essential oils. See Full Disclaimer here.